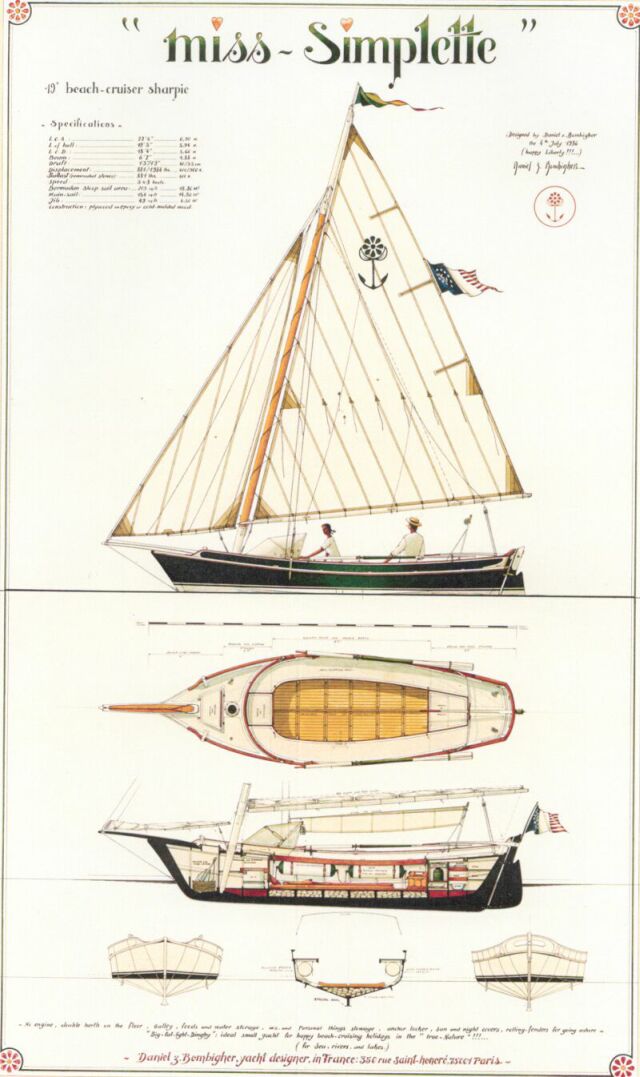 ---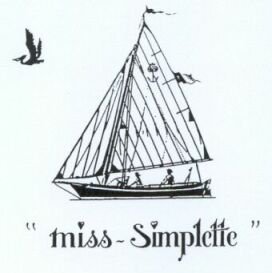 ---
" miss-Simplette "
- 5,94 metre deck length
- 1,90 metre beam
- 400-900 kg
- 50 cm draught
- about 19-25 m2 of sail can be carried

It was at the request of Lance Lee, head of the Apprentice shop of Rockport, Maine (USA) that I designed Miss Simplette. He wanted to teach his apprentices modern techniques for working wood. Why not adapt an American fishing boat like the Chesapeake Bay skiff-log canoes to make a boat for coastal or beach cruising, and build it out of marine ply?
This was an interesting challenge for a interesting boat and an interesting programme! especially as it's not as easy as that to design a boat which has the elegance of a mini-yacht and the performance of a modern dinghy without a keel or a centerboard!
I should point out that beach cruising is an American tradition. And the eastern coastline with its many inlets is well suited to this nautical strolling. Americans are particularly keen on coastal rambling from creek to creek beaches, bays going up river to lakes living by fishing and they like to be able to use the same boat in mad regattas! In other words, nautical leisure activities par excellence!
It seemed to me that in Europe we had coastlines which were just as beautiful and which would allow the same kind of sailing interesting all generations of nature lovers living in harmony with nature and who like a little sport with the thrills of speed! I also designed Miss Simplette so that she could easily be towed behind a small car.
Miss Simplette, 19 foot long, less than 6 metres deck length, has a sharpie hull with a symmetrical double stern with deck and transom overlapping the stern in the Chesapeake Bay fashion built in marine ply-epoxy on a light cedar frame protection by epoxy treatment no draught and nevertheless good speed performance because of her special keel and asymmetrical fins (3,000 year old Chinese trick modernized!), Bermudan sloop rig, extremely powerful and simple without any chandlery!
The "Miss" is fitted with a real open air galley, a chemical WC and the bow sealed compartments for food and personal effects, and a chain locker accessible from the deck.
The bottom/sole acts as a big double berth with a blow-up mattress and sleeping bags. It is good to sleep there with a tarpaulin as protection from the rain, dew or sun pleasant in all circumstances afloat, in a mooring or rolled out on a beach. The tarpaulin is fitted in 2 minutes using a folding boom gallows. A forward spray hood protects the crew from spray when going to windward. The "Miss" is so stable that it is possible to let go of the tiller for a siesta! She goes about on her own without any manoeuvre - but take care! Since she carries a lot of sail it's necessary to reduce sail very quickly!
She is made for:
- An option with a rigid roof which is more like a hard tent to protect the crew when sleeping in climates which are too wet. As a precautionary measure she is fitted with a 9 horsepower slow diesel engine which makes her into a little fishing boat (which is still very fast under sail).
- An enormous sail area, consisting of two sails for crazy regattas, without having to change the rig to enable four heavy sportsmen hanging out to windward to give themselves a few thrills! It's the kind for Bermudan or Australian regattas! But take care! Don't use this sail plan if you are alone or only two of you danger is imminent!
The "Miss" is a pretty little general purpose mini-yacht suitable for lovers, young people who have not yet earned a fortune, or sailing schools who want to practice sailing, speed camping in the wild. She is a cheap boat for her size which can be built by an amateur if he is a good handyman, for 350 hours of work.


---
Hervé Coutand
Bordeville - 16170 Rouillac - France
Phones: 33 (0)5 45 21 70 23 / 33 (0)6 82 39 37 92

---
The folowing designs are only documentations, property of Zoé Bombigher (Bombigher 's daugther), no construction, distribution, reproduction, publication, without written autorisation (11 of march 1907-1957 law).
---