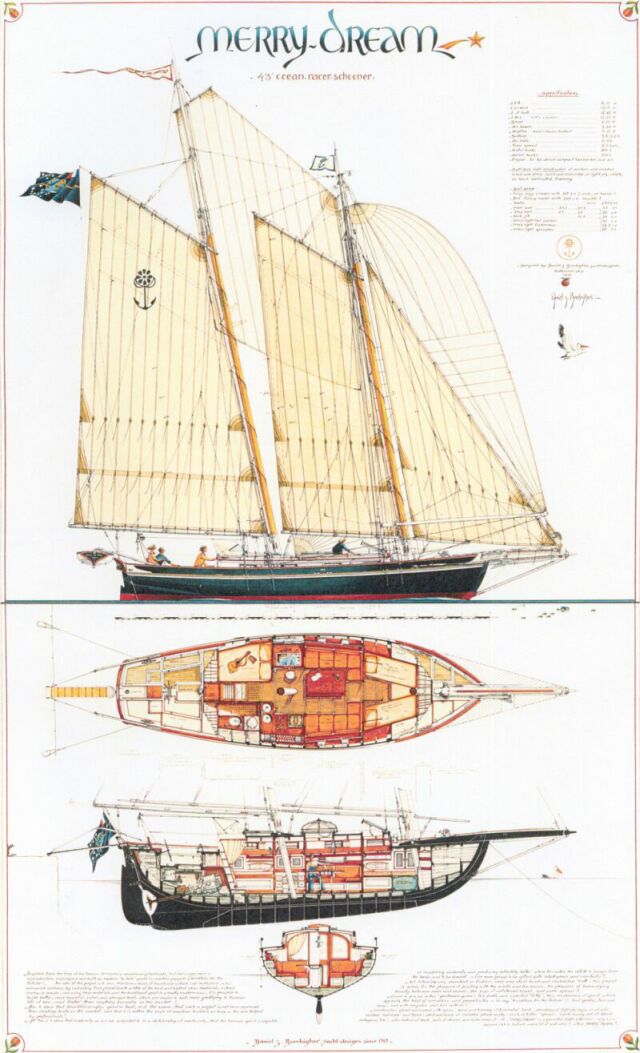 ---
"Merry-dream"

43' schooner of very pure classic style, inspired by the famous early New-Yorker pilots, she is a lazy comfortable and fast cruiser under her 3 boomy sails, a man alone is enough crew, she can be a perfect family-vacations boat also a real nomadic home for ocean passages and long blue-waters cruises.

A big cockpit with the engine under, lot of storage in the bow and the stern the inside volume is all open during the day with a private closed cabin in front at night, a big double bed and a nice head with shower at stern, a complete big galley and a real chart-table, a big and cosy saloon with 2 berths, and the front private cabin.

But she is also, because of her size is perfect, the extreme illustration of the speed theory mixed with classic design: strongly built of light cold moulded wood and epoxy on laminated framing, she is very light: only 24.000 lbs. full charged, very heavily ballasted with 12.000 lbs. of outer lead, and a lot of sail area in plus of her 3 boomy sails: big light Yankee, fisherman, and asymmetrical spinnaker; giving more than 2.500 sf. of sail for fun, light wind, or regattas She is impossible to follow in a classic regatta and is able to play with the best modern 43' with a good crew of 6 friends onboard, of course!

She is my favourite boat, my fastest one, my best design, the perfect schooner I would build for myself should I have a personal boat in the future.

She is 54' O.A., 43' on deck, 41' W.I., 13' beam, 5'8" draft, with a fineness ratio of 0,516, a 70 HP diesel engine with 79 gals. tank, 211 gals of fresh water tank.

She must be built up side down and turned over on her ballast, which is not easy for amateur construction Her construction needs 9 to 10.000 hours of labour, and in plus materials and full equipment.

She also have a construction option to be built of plywood lapstrake on epoxy nailed on laminated frames, which is the lightest and strongest way of construction but needs specialists to do it.




---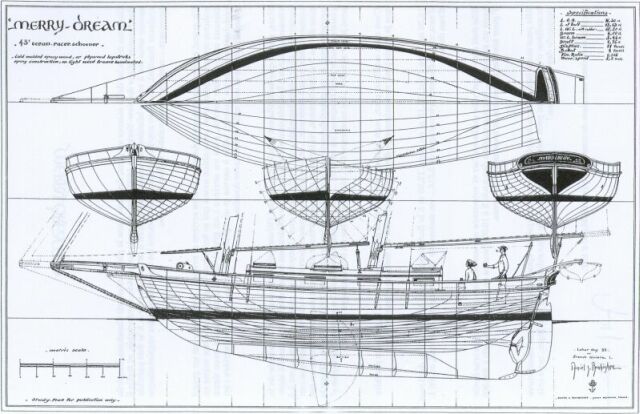 ---
Hervé Coutand
Bordeville - 16170 Rouillac - France
Phones: 33 (0)5 45 21 70 23 / 33 (0)6 82 39 37 92

---
The folowing designs are only documentations, property of Zoé Bombigher (Bombigher 's daugther), no construction, distribution, reproduction, publication, without written autorisation (11 of march 1907-1957 law).
---