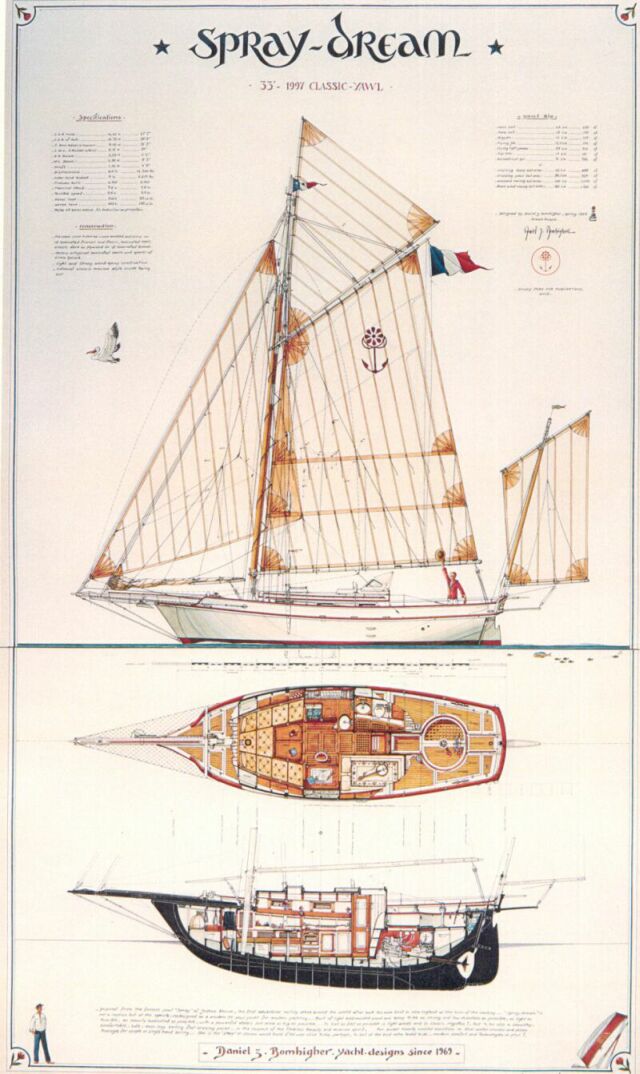 ---



Spray-dream"



Joshua Slocum gave us a lot of dream in your youth with his "spray", his marvellous book, his adventures, the first to sail alone around the world after building his own boat, his curiosity, his humour, his sea-man common sense, his 60 years old young man's spirit!

His "spray" was a good boat for his time, but a bad slow boat for our modern time as proven by the built replicas.

Imagine Mr Slocum alive to day, building again his famous dear "spray" to sail again around the world at the best as he loved to do what would be his "spray" today using, of course, the best technologies of the time as the modern man he was?

For our pleasure and to thank Mr Slocum, I designed "Spray-dream" in the same spirit as the other "Dreams" of the series: very classic design, long keel and classic rig, with all the comfort, the solidity, the charm of the classic spirit, but as light as possible: 14.000 lbs. only in full charge displacement, including 6.000 lbs. outer lead ballast, and a lot of sail area to play classic regattas and light wind windward!

35' on deck (47' O.A.) 31' W.I. 11' Beam, 5' draft, a fineness ratio of 0,540, a 35 HP diesel engine easy to sail alone, she is a reliable yacht for all ocean-roads, coastal family cruises as well as ocean passages and blue-waters wandering all is possible!

Down-below is a big open volume: a big double bed and a nice head with shower at stern, in the middle a complete galley and real desk chart-table, and in front a cosy saloon with 2 big berths around a table, a lot of storage and lockers in plus of course and a huge cockpit with the engine under.

She is built of light cold moulded wood and epoxy on laminated frames, upside down and turned over on her ballast her construction needs 5,000 to 5,500 hours of labour, plus cost for all materials and equipment.




---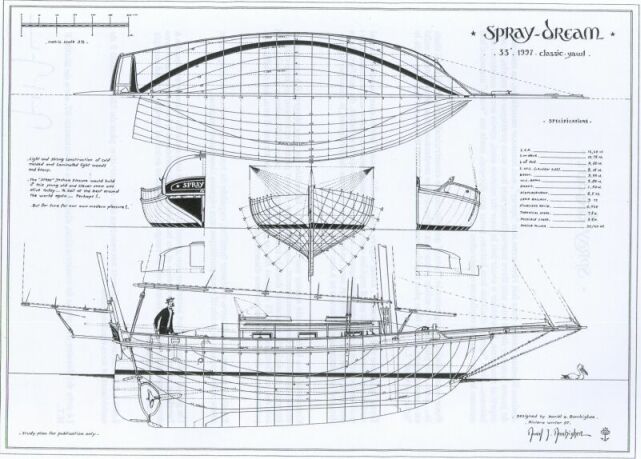 ---
Hervé Coutand
Bordeville - 16170 Rouillac - France
Phones: 33 (0)5 45 21 70 23 / 33 (0)6 82 39 37 92

---
The folowing designs are only documentations, property of Zoé Bombigher (Bombigher 's daugther), no construction, distribution, reproduction, publication, without written autorisation (11 of march 1907-1957 law).
---