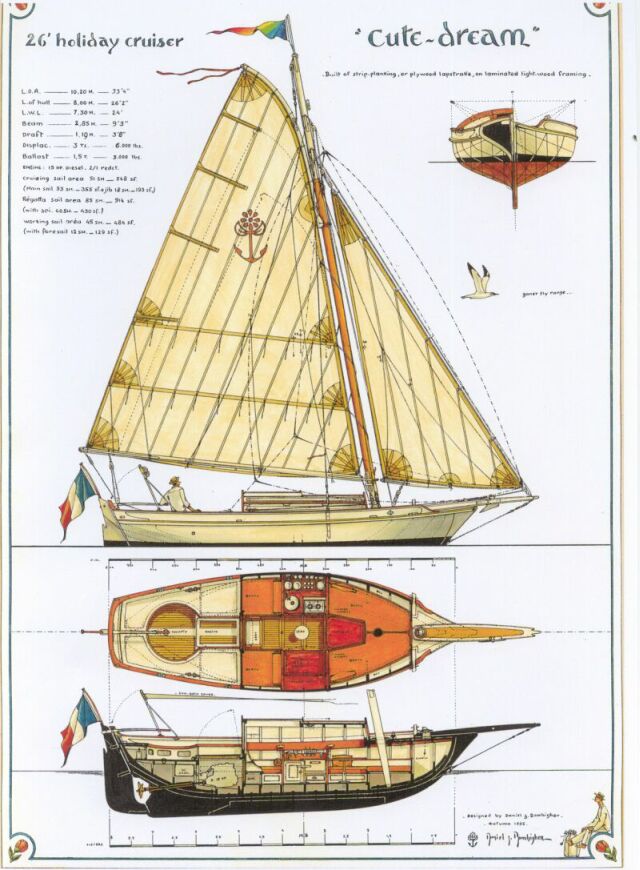 ---



"Cute-dream"



Classic 8 meters monotype to play and race with all international series, she is also a very pretty and nice family cruiser, comfortable, under reduced main sail, very funny and fast in light wind with her powerful rig. She is inspired by the famous Bahamas sloops well-known for giant sails and beautiful fine lines of hull.

She is a light displacement of only 6.000 lbs., including 50% ballast: 3.000 lbs. for high stability under sails, running at her maximum speed in any type of wind.

She is totally built of wooden modern technologies: cold moulded and laminated wood and epoxy of very light woods for solidity, low maintain, and long life, she is finished and equiped not only as a pretty fast boat but as a true yacht, a seaworthy boat.

Huge round cockpit for a crew of 4, a low and elegant full beam house with 5' head under, lighted by Plexiglas on door and front panel of house All inside is organized around seat position: down bellow the step is also a box and a seat, one big berth on each side, a real chart-table with navigation locker, toilet under, on the other side a real equipped galley, and in the bow: 2 big beds around a removable table becoming a king size double bed.

The mast is a wooden Hollow laminated construction, with a very simple and strong rig; the main sail is a "Dania" type: a kind of gaff sail with a curved gaff and a single halyard; in front: a club-jib for lazy tacks, but in light wind or race there's the possibility to rise a big light Yankee or a big asymmetrical spinnaker, giving a giant sail area, and a lot of fun of course!

1.500 hours of labour are needed to build her, plus cost to purchase all materials and equipment.




---
Hervé Coutand
Bordeville - 16170 Rouillac - France
Phones: 33 (0)5 45 21 70 23 / 33 (0)6 82 39 37 92

---
The folowing designs are only documentations, property of Zoé Bombigher (Bombigher 's daugther), no construction, distribution, reproduction, publication, without written autorisation (11 of march 1907-1957 law).
---