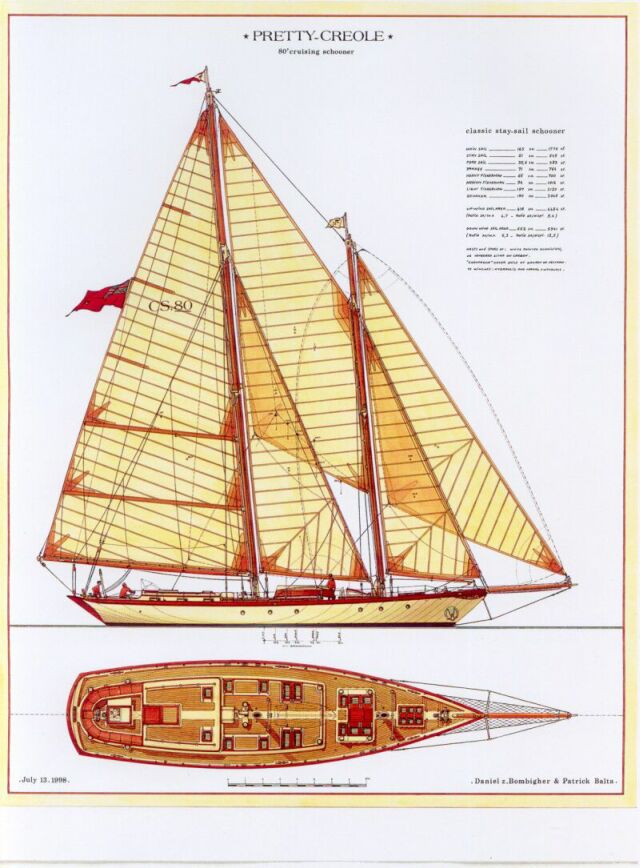 ---
" Pretty Creole "
" 80' Cruising Schooner "


Specifications:
L.O.A. 97' 29,53 m
L. on deck 80' 24,30 m
L.W.L. 65' 19,84 m
Beam 20' 6,23 m
W.L. beam 18' 5,53 m
Draft 8' 2"/14' 2,50/4,30 m
Top of mast/WL 107' 32 m
Displacement max. 97,000 Lbs 44 Ts
Ballast 30,800 Lbs. 14 Ts
Fineness ratio 0,555 0,555
Head room 6,6" 2 m
Diesel engine - hydraulic transmission 250 HP
Diesel Tanks 528 Gals. 2,200 L
Water Tanks 528 Gals. 2,200 L

Main sail 1,776 sf. 165 sm.
Stay sail 549 sf. 51 sm.
Fore sail 383 sf. 35,6 sm.
Yankee 764 sf. 71 sm.
Heavy Fisherman 700 sf. 65 sm.
Medium Fisherman 1,012 sf. 94 sm.
Light Fisherman 2,120 sf. 197 sm.
Genaker 2,045 sf. 190 sm.
Up wind sail area 4,484 sf. 416 sm.
Down wind sail area 5,941 sf. 552 sm.
Generator 25 kw. Water Maker 300 L/H.
Hydraulic System for winches and windlass

Composite wood-epoxy construction. Classic joinery deck and layout
wood on carbon Masts and spars
(aluminium hull and masts on request)

"Pretty-Creole"
"Pretty-Creole" is the smallest sister of "Belle-Creole 90'" and "Queen Creole 105'" The "Creole" Line! The "Creole" family!
For those, as we are in love for beautiful boats, classic schooners, marine culture, tradition but in love also for seaworthy fast boats, comfortable and easy to sail for cruises and fast enough for regattas splendid days in blue waters, sunny, windy, happy crew, fun classic regattas or ocean passages is the purpose of this stay-sail schooner.
A light hull with modern lines, shallow draft and centerboard, for the best speed and balance: the hull is built from aluminium, or from composite laminated wood-epoxy for those in love for maximum quality (the best of construction material).
A very pure classic style above the water line with all the charm and elegance of a genuine schooner huge deck of teck decorated with warnished wooden skylights, hatches, and hand-rails; a low and beamy coach-roof at stern, followed by a great round cockpit, big enough for 10 guests around a low table at center (also lazarette hatch and watertight chart table).
A very classic stay-sail schooner rig, very modernized by white painted metalic masts and spars, or better: sitka spruce veneered on carbon masts, what is the best?
"Champagne" color dacron sails with forced battens, tracks and cars, manual or hydraulic winches, a powerful sail area needing 3 crew maximum for cruises, a bit more, of course, for regattas!
A gaff-rig version is possible, we chosen the stay-sail rig because the boat is small enough to accept it bigger is a schooner, better and easier to handle is gaff rig, as all schooner's lovers know! The stay-sail schooner rig is very good in very light and very heavy winds, especially to point on the wind, not the best down wind of course!

Inside the layout is a pure traditional marine joinery of beautiful woods, leathers, bronzes, canvas, on white painted ceiling, bulkheads, and panelling giving clear and airy volumes happy ambiance keeping the colonial classic style of famous schooners! The saloon is a full beam one, with a dinner side, and a rest side, with chart table, music and video equipments. The galley is implanted ahead, under the coach-roof open on the saloon, with a cooking side and a dish-side, fridges are under sole. Two steps down ahead are the two guests cabins with private heads, each one with a double bed (pulman berth in plus on request). The main cabin is a nice owners apartment with big bed, sofa, table, and private head with a seatted shower a double door open on the passage as a second private saloon.
The engine room cuts the boat with complete isolated and watertight bulkheads, access by the deck, big enough to have all equipments, main engine, generator, water maker, batteries, battery charger, pumps, hydraulic group for winches, hot water balloons, etc A true professional engine room.
The crew quarter is totally separated from the guests part with a captain cabin, a crew quarter for two, and a big head with laundry equipment.
The crew is: a skipper, a first mate, and a hostess-cook.
"Pretty Creole" is the perfect alliance of the tradition and pure marine culture, with the most advanced concepts and technologies in matters of design and construction a reliable fast cruising yacht, with comfort, elegance, beauty, and "art de vivre" an exceptional yacht!

"A Daniel Z. Bombigher (and Partners) yacht design project"

---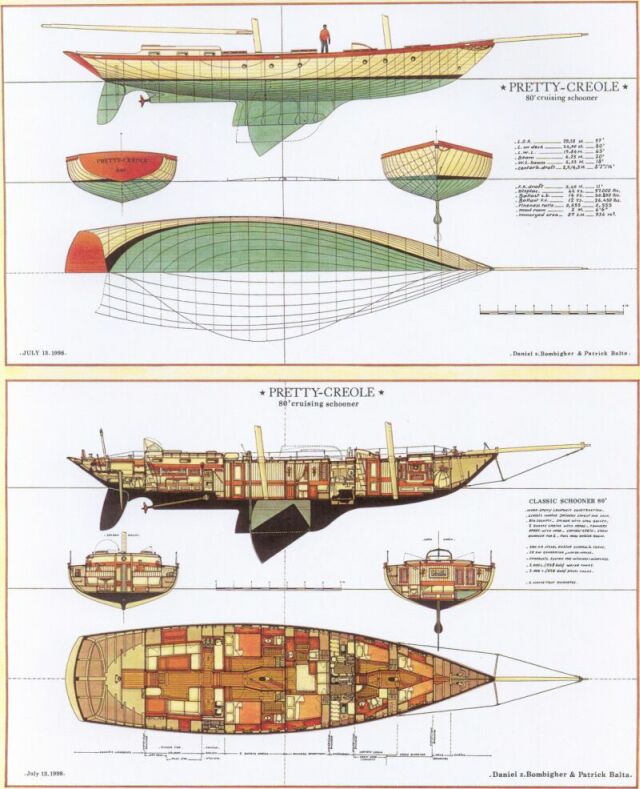 ---
Hervé Coutand
Bordeville - 16170 Rouillac - France
Phones: 33 (0)5 45 21 70 23 / 33 (0)6 82 39 37 92

---
The folowing designs are only documentations, property of Zoé Bombigher (Bombigher 's daugther), no construction, distribution, reproduction, publication, without written autorisation (11 of march 1907-1957 law).
---