The Shpountz

---
---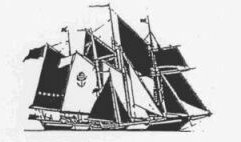 ---
The Shpountz
The SHPOUNTZ are a series of very special yacht plans. They are available in 3 lengths and correspond with 3 different kinds of navigation and 3 different budgets: SHPOUNTZ "44-40" (15 m), SHPOUNTZ "38-40" (13 m) and Ti'SHPOUNTZ (11 m).

The SHPOUNTZs are sailing ships, designed specially for long voyages: the hull shape, the deck layout, the rig and sails chosen, and the internal layout make these boats real "MARINE HOMES"

STRONG
Thanks to the monoblock moulded wood hull on strong laminated frames.
Thanks to undemastable rigs. You can always try to test them by going fast under a low bridge perhaps! And even then it's not really sure !

COMFORTABLE
The hull is entirely drawn with radial diagonals. This makes a boat which is comfortable at sea and does not leave any wake, whether light or fully laden.
The draught is small, providing easy access to estuaries, rivers and all those pretty little moorings (including cyclone holes).
Their normal heel angle is 8° to 10°.
All these qualities provide stability to the boat and make life aboard comfortable. By comfort I mean the possibility of living and living well on board, regardless of the weather or the state of the sea. Also, cooking, eating, sleeping and washing do not present any problems. For your information, on none of my boats is there a retaining belt for the cook, or even lee cloths.

STABILITY OF BEARING
Thanks to their long spaced-out sail plan, which is easy to balance.
Thanks to a long keel sharply sloping aft which serves as a reaching keel.
Thanks to a centerboard forward which helps windward performance. Working this centerboard enables balance to be achieved: close hauled, it is right down, on a reach it is raised half way and on a broad reach completely raised. For manoeuvring in port the centerboard is lifted half way.
This enables the SHPOUNTZ to sail with the tiller lashed or to simply be fitted with a small-boat automatic pilot.

EASY TO MANŒUVRE
Thanks to the gaff schooner rig, manoeuvring is a refined art enabling the boats to be sailed with the tips of the fingers in all circumstances and at maximum efficiency with no effort, just like a big dinghy.
Don't forget these are powerful schooners like little sailing traders, which do require a little bit of learning. Unlike industrial sloops there's no need for muscles or to be a sportsman, but only to have a little common sense.
If you have no experience of gaff rig schooners please ask my advice!

EASY TO MAINTAIN
Thanks to epoxies and Awlgrip paints, yachts no longer need to be painted once a year as they used to, but only once every 5 years. The rest of the time maintenance simply consists of washing them regularly with sea water.
All the fittings and materials used have been selected to require the least possible maintenance and to be sufficiently simple for everything to be able to be repaired with tools which are on board. Hence there is no need for rare and expensive specialists.

METHOD OF CONSTRUCTION

Although SHPOUNTZ are built in moulded wood (a modern technique) they are built in the traditional way: keel at the bottom, so that an amateur builder does not have to turn the hull over.
The SHPOUNTZs are exceptional sailing ships.Nevertheless they can be built an amateur builder if he is sufficiently motivated, tenacious and has enough perseverance to build such a dream himself.
That's why I always draw my plans in great detail, including every screw, and everything is drawn exactly to scale. A 900-page building manual including hundreds of sketches, understandable by everyone, makes building so easy technically that no one has ever given up, or even had a setback for technical reasons.
150 pages specifically given over to each of the 3 models accompany this manual written from practical personal experience. Therein you will find quantities of possible options which will enable you to build this boat to your personal taste.
At it is designed for amateurs, it is obvious that any yard building in wood, providing they follow the plans and specifications scrupulously, is also able to build a SHPOUNTZ, completely or as a bare hull or major works for amateur completion.
Bear in mind that a hull only costs 30% of the overall cost of the ship and finished major works only 60% of the total cost.
Building a boat like this is an exciting adventure. You will learn the pleasures of beautiful workmanship: a window on liberty. a discovery of the planet at the slow speed of the wind!
By the way: "SHPOUNTZ" is an old gypsy word meaning the village idiot. Not the one we make fun of but the one who knows the secrets of the winds, the springs and the flowers!
As to the names "44-40" and "38-40", don't look for feet or measurements. As a joke I named these two yachts by the caliber of my favourite revolvers!

---
---
Back home ....................

Hervé Coutand
Bordeville - 16170 Rouillac - France
Phones: 33 (0)5 45 21 70 23 / 33 (0)6 82 39 37 92


.................... Back designs
---